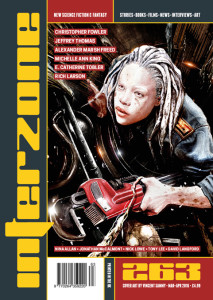 Just a brief update: My latest short story, "Ten Confessions of Blue Mercury Addicts, by Anna Spencer" appears in the March / April issue of venerable British SF magazine Interzone. You can purchase the hardcopy edition of Interzone #263 at the TTA Press store and at various retail outlets. For those who prefer an e-reader edition, copies should be available through Amazon and other typical sources (Apple, Weightless Books, Smashwords, etc.)
For folks who haven't read my original (i.e., creator-owned) work before, "Ten Confessions…" is representative only in the sense that I like to play with form and try new things. It's a soft science-fiction story about time, obsession, and going very, very fast.
Check out the opening and Jim Burns's illustration, below:
Ten Confessions of Blue Mercury Addicts, by Anna Spencer
by Alexander Marsh Freed
1
A woman with tousled cherry-red hair and a barbed wire neck tattoo faces the camera as I take a snapshot. She waves at me in a big, broad arc, then laughs and drops her hand to the bench.
"I want to be the first American woman to cross the Atlantic on foot," she says, smiling through crooked teeth dotted with bleach spots.
This is Julie. We're talking after her third race of the season, outside a bar where her friends, fans, and eighty-six-year-old grandmother are celebrating. Today I've seen her beat three competitors to cross central Texas and back in the space of ninety real-time minutes. She hasn't slept, hasn't eaten and while she's changed her clothes, I can still smell her body odor. There's a chemical undertone to her sweat, like the scent of glass cleaner.
When she talks about her ambitions, I believe her.